2019 Mishloach Manot (Purim Gift Baskets)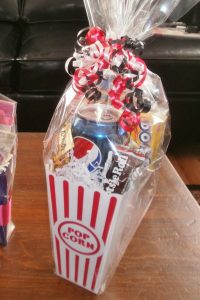 Thanks to a very successful Mishloach Manot fundraiser, every family at Adath will receive a Purim gift basket this year.
The theme of the gift basket is "Movie Night."   The contents of the gift basket include: 2 bags of microwave popcorn, 1 can of soda, 2 packets of Crystal Light, 2 candy bars, 1 grogger, and a small package of cookies.
In order to receive your gift basket, please pick it up at the synagogue at one of the times/dates below.
GIFT BASKET PICKUPS AT ADATH:
Sunday, March 17 from 9:00 a.m. – 1:00 p.m. (during Purim Palooza)
Sunday, March 17 from 5:15 – 5:45 p.m.
Monday, March 18  6:30 – 7:00 p.m.
Tuesday, March 19, 6:30 – 7:00 p.m.
Wednesday, March 20, 5:45  – 7:00 p.m. (during Megillah Reading)
If you have any questions, please contact Rebecca Goldwasser at aisisterhood@gmail.com or 513-240-1772.