Tikkun olam.  It's amazing what we can do together!
Adath Israel Sisterhood is looking for help with two special Social Action activities: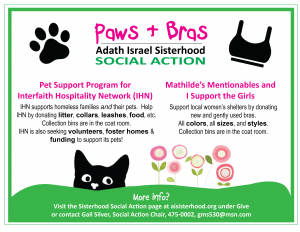 IHN Pet Support Program:  IHN established its Pet Support Program in 2014 to extend care to four-legged family members, allowing children and parents who become homeless to keep their dog, cat and/or small companion animals rather than surrendering them to animal shelters or leaving them behind. The animals are either sheltered in an on-site kennel at the day center or placed temporarily with a foster family.
Here's a great story from WCPO Channel 9 about the IHN Pet Support Program!
There are four different kinds of support needed for this program:
VOLUNTEERS to help with pet care at the on-site kennel.
FOSTER FAMILIES to temporarily care for animals in your own home.

DONATIONS OF SUPPLIES*

 such as pet food, litter, collars, leashes, etc.  
DONATIONS OF MONEY to cover the costs of vet care, transportation, etc. 
*Collection bins for pet supplies are located in the Adath Israel coat room. 
If you would like to volunteer, foster, or donate money, please contact Gail Silver, Sisterhood's Social Action Chair, at gms530@msn.com or (513) 475-0002.  More information at ihncincinnati.org/explore/programs/pet-support-program/
Mathilde's Mentionables and I Support the Girls, a national collection drive through the Women's League for Conservative Judaism (WLCJ):
Donate new bras 

of all sizes and types – nursing bras, training bras, mastectomy bras, sports bras, white bras, colored bras, etc.

Donated gently used bras

(used bras must be washed).

 

Please gather bras that have been worn only briefly.
Collection bins for the bras are located in the Adath Israel coat room.  If you have questions, please contact Gail Silver, Sisterhood's Social Action Chair (see above). More information at wlcj.org/programs/mathildes-mentionables/

In addition to the above social action activities, Sisterhood continues to be involved with:
Volunteering at the Soup Kitchen in Over-The-Rhine, organized by Elza Jonas and Glenda Bernstein, Sisterhood's Soup Kitchen chairs

Cooking food at Mitzvah Day for Caracole House and/or Halom House, organized by Wendy Pomerantz, Sisterhood's Mitzvah Day chair

Supporting the Interfaith Hospitality Network (IHN) during the shul's three host weeks each December and during the summer, organized by Gilda Schwartz, Sisterhood's IHN chair

Various donations of tzedekah to needy organizations throughout Hamilton County