CANCELLED – Vines in the Sukkah – Joint Sisterhood/Brotherhood event
October 3, 2020 @ 8:00 pm

-

10:00 pm
Celebrate Sukkot with Sisterhood and Brotherhood!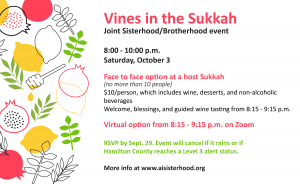 This year, we are offering two different options to accommodate our membership:
Face to Face Option:
If you choose this option, you will be invited to attend a face to face, outdoor Sukkah party at the home of a Sisterhood member. No more than 10 people will be placed at each host Sukkah. The cost is $10/person and includes desserts, wine (non-Kosher), and non-alcoholic beverages. A formal program, including a welcome, blessings, and guided wine tasting, will take place between 8:15 – 9:15 p.m. 
You will be contacted with the name of your host and their address.
Masks are required, except during eating and drinking. Please practice social distancing.
The event is outdoors, but restrooms will be available at the host homes.
All participants must fill out Adath Israel Congregation's online COVID-19 screening form by 4:00 p.m. on Friday, October 2:
adath-israel.org/screening
Virtual Option:
If you choose this option, you will be invited to attend the formal program from 8:15 – 9:15 p.m. via Zoom (which includes a welcome, blessing, and guided wine tasting). There is no cost to attend virtually. You will be provided with a list of wines to purchase for the wine tasting. A zoom link will be emailed prior to the event.
Cancellation Policy:
Because the face to face event is outdoors, this event will cancel if it rains.  This event will also cancel if Hamilton County reaches a Level 3 alert status for COVID-19. Your pre-payment will be refunded.
How to RSVP and Pre-Pay (if you are attending face to face):
Your RSVP and pre-payment for this event are required by Tuesday, September 29. Here's how to RSVP and pay:
RSVP to Sue Pressman via email at aisisterhood@gmail.com or by phone at (513) 544-1228. Please indicate whether you are attending face to face or virtually in your email to Sue.
Payments – This event must be pre-paid if you are attending face to face. Payment options include:

Pay via PayPal – please see below. Note: there is a small processing fee.
Mail a check c/o Sue Pressman, 26 Carpenters Run Ct., Cincinnati, OH  45241.
If you would like to use PayPal, please click on the Add to Cart button below to begin processing your payment. You will need to click this button once for each person who will be attending.
Once you have the correct total, then click on the Checkout with PayPal button.  To pay with PayPal, you can use a credit card or you can have PayPal deduct the amount from your checking account. If you do not have a PayPal account already, you will need to sign up for one. There is no cost to sign up for PayPal.