Dessert Reception Honoring Rabbi Ben Chaidell
May 2 @ 7:30 pm

-

9:00 pm

EDT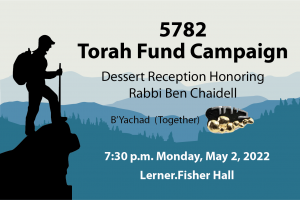 Adath Israel Sisterhood
cordially invites you to celebrate with us as we honor
Rabbi Ben Chaidell
for his contributions to Adath Israel Congregation

At a dessert reception for our
annual Torah Fund Campaign to support the
Jewish Theological Seminaries for Conservative Rabbis
Monday, May 2, 2022
7:30 – 9:00 p.m.
In person at Lerner.Fisher Hall and Live-Streamed at AdathLive.com

The theme for the 5782 Torah Fund Campaign is B'Yachad (Together). A $20/person couvert and a donation to the Torah Fund Campaign are required for this event. 
COUVERT
The couvert for this event is $20/person. To RSVP and pay, please click this link (which will take you to Adath Israel's ShulCloud to make your payment). The RSVP deadline is Monday, April 25, 2022.
If you are not an Adath Israel congregant, please contact Lynn Kling at (513) 252-5068 or nursekling@gmail.com to arrange for separate payment.
DONATION TO TORAH FUND CAMPAIGN 
The cost to attend thia event is a minimum gift of $18/person to the Torah Fund Campaign. Additional donations are welcome in multiples of Chai (see Levels of Giving below).
Donations to Torah Fund should be made directly to the Jewish Theological Seminary through their website.
Levels of Giving include:  
$18 – Sharon Woods
$36 – Hocking Hills
$54 – Great Smoky Mountains
$72 – Mammoth Cave
$108 – Yosemite
$180 – * The Grand Canyon
$300 – * Yellowstone
*Due to COVID-19, the 2022 pin is the same as last years, B'Yachad (Together). New donations of $180 or more will receive the pin. If you already received the pin, you can donate at the next level of giving to receive the same pin with a pearl insert.
Donations are tax deductible.
TORAH FUND CAMPAIGN
The Torah Fund Campaign, sponsored by the Women's League for Conservative Judaism (WLCJ), is celebrating its 80th anniversary in 2022. The campaign is an annual fundraiser for Conservative Jewish seminaries across the world. For more information, please visit the Torah Fund website.